Fall is a Great Season for your Next Hot Tub
A few months ago we published an article on when is the best time to purchase a hot tub. We mentioned that the summer/fall season was usually when new models come out and many deals ramp up. Since then, we've had several events including the latest ones which were the Rock N' Row event and the current National Rebate Event. While we believe anytime is great to purchase a hot tub, there are some reasons why you should take a harder look this fall.
Change of Weather
As we transition into fall, we start to think of family get-togethers, Thanksgiving, chilly nights and hot apple cider. While hot tubs provide year-round enjoyment, it's usually the colder nights that you feel very thankful that you have one and even more so when you can invite your friends and relatives over for a weekend night of food and entertainment. There is something special about being in the hot tub in cooler weather and with the sun setting earlier, you start to get more time to enjoy the hot tub at night.
Another change with the season is increasing sports and exercise activity. Young athletes play football while adults find it enjoyable to take long walks or go jogging without the intense heat of summer. Hot tubs provide fantastic relief from the bumps and pains you get from vigorous activity. Taking a long soak helps your body recover and allows you to sleep better at night.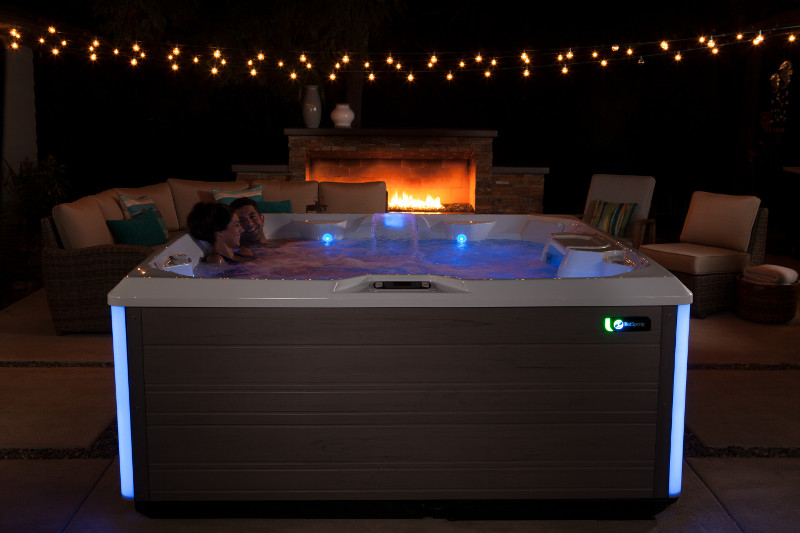 Colors of Fall
Along with fall comes intense colors or yellow, orange and red. We often savor the moment as our backyard transforms into a scene of art and beauty. There is nothing more satisfying than pairing up those colors with the blue hues of a hot tub to add some nice contrast to your backyard. At dusk when the sun is starting to set, the hot tub lighting helps create a scene that is memorable and tranquil.
Some of our models include exterior lighting which enhance the experience and is a great feature for not only fall, but the other seasons as well.
Cleanup and maintenance
One worry that people have with fall is keeping the hot tub clean with all the leaves falling all over the place. One of the best ways to keep the hot tub clean is to use a cover to keep out the debris of nature. While covers are one solution, we have a range of Covana covers which goes the extra step of keeping the sun off your backs as well. It also insulates the hot tub so that the heat of the water doesn't escape so easily.
Location Consideration
Speaking of debris, one other benefit of purchasing a hot tub in the fall is you can get a good idea of where the cleaner parts of your backyard is in case you want to forgo a cover. As leaves fall, you'll start to see places where the hot tub may rest that will be void of leaves and twigs.
There really isn't a reason not to have a look at hot tubs this fall. You can talk with one of our experts who will help guide you through selection, placement and transforming your backyard into a place of enjoyment and relaxation.